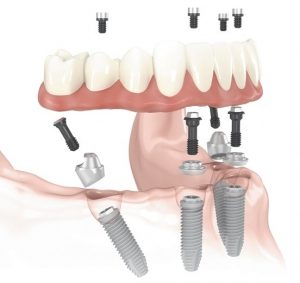 In Advanced Dentistry Clinic Asensio we can offer you the latest dental implant treatment performed by qualified professionals. This treatment allows us to replace dental pieces with a fixed denture and without a palate. http://vboda7.org/calendar/?time=week Both upper and lower arches can be replaced with fixed prosthesis Shcherbinka on the same day by using only http://siftstar.com/2006/10/10/want-raw/ FOUR implants. This technique permits to chew and smile again without being afraid of anything.
Hundreds of thousands of people in all over the world enjoy this advanced dental technique that does not only permit to save their time and money, but also makes them feel psychologically better because of the radical change that the patient feels in a few hours.
Depending on the needs of each case, we use Klockner or Nober Biocare dental implants, both are of high-quality and prestige in the market.
Doctor Asensio, what does the procedure All-on-Four consist of?
The progress in dentistry allows us to find more innovative solutions and use the highest quality dental technique, such as All-on-Four. Thanks to the latter technique, patients come to Dental Asensio in the morning and at the end of the day return home with a beautiful smile. The new fixed teeth will not only permit you to continue with a normal life enjoying food with family and friends, but will also let you share your smile again.
What distinguishes the dental technique All-on-Four from other treatments?
The All-on-Four treatment is quick and comfortable, it does not include a removable prosthesis that is bothersome while eating or speaking. Thanks to the fixed teeth, patients can return to their normal daily routines. Moreover, All-on-Four is a worthwhile procedure because it reduces your expenses.
What would you say to patients who have been left behind by other dentists or whose cases are really complicated?
Ask for a second opinion­! Our dental clinic is recognized as being one of the most advanced medical units in solving complicated cases.
https://dentalasensio.co.uk/wp-content/uploads/2016/01/logo.jpg
0
0
webmaster
https://dentalasensio.co.uk/wp-content/uploads/2016/01/logo.jpg
webmaster
2016-06-06 07:49:09
2016-06-06 07:49:09
All-on-four: Goodbye to artificial dentures in a day