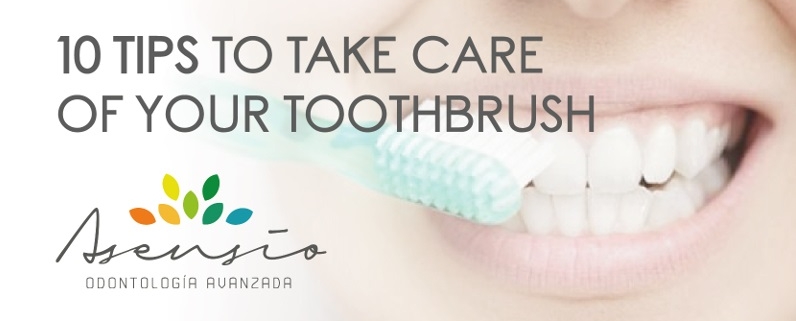 Something to keep in mind in our daily life is that we store a large number of bacteria, germs, and microbes on our hands without realizing it. In everyday actions such as exchanging bills and coins, turning the doorknob, typing an article on our computer, writing a WhatsApp with our mobile, and even stroking our pet, we are at risk of contracting these micro-organisms. We are exposed to a number of microbes that are present on an infinite number of objects, places, and even people, and that can easily transfer to your hands and finally ending up on your toothbrush.
The bacteria on your toothbrush builds up as the days go by. Therefore, we must detect it in time to be able to prevent possible diseases that can affect our dental health. Since this new normal requires us to pay much more attention to daily hygiene, we, therefore, must maintain excellent personal and dental hygiene.
Our professional team specialized in oral health, together with the advice provided by the General Council of Dentists of Spain, has put together 10 tips for cleaning teeth with your toothbrush and avoid contracting or spreading the coronavirus (COVID-19) :
Never share a toothbrush
Wash your hands well with soap and water before touching the toothbrush. Viruses can pass very easily from the hands to the mucous membranes (mouth, nose, and eyes). Your handwashing should be done carefully and should include the spaces between the fingers, nails, thumbs, and palms.
You must maintain your dental hygiene habits. Never forget the importance of brushing your teeth after each meal to avoid the accumulation of tartar, the appearance of bad breath, or possible oral pathologies.
Wash the toothbrush after use. Apply plenty of water to remove debris that may have remained on it
While the epidemic lasts, it is recommended that the brush head be disinfected. The coronavirus is found in the saliva of both symptomatic and asymptomatic infected people, therefore an important tip to take care of your toothbrush during the COVID pandemic is to disinfect it after washing it. You can do this by immersing the brush head in a container with 0.2% povidone-iodine or 1% diluted hydrogen peroxide for one minute.
Dry the brush properly. Lack of proper drying can allow moisture to remain in your brush head which favors the proliferation of bacteria and fungi. You can shake it by turning the handle from left to right and store it with the head up in an upright position.
The coronavirus is also found in urine and feces; therefore, it is advisable not to have the brush in sight near the toilet, since when the chain is stretched, the particles could reach your toothbrush. In this case, it is advisable to keep it stored or well protected in a closet.
Close the toilet seat before flushing. As we have discussed, recent studies have suggested that the virus can be spread through fecal matter. Therefore, you must make sure that your brush is at the correct distance from the toilet.
If you live with more people, it is advisable not to put all the brushes piled together, since there could be a risk of cross-contamination when they come into contact with each other.
It is important that you renew your brush every 3-4 months
These are the 10 dental hygiene tips that our team of specialists in dental implants abroad at Asensio Advanced Dentistry has put together for you. If you have any questions, you can call our landline 0800 086 9049 or send a email to office@dentalasensio.co.uk . We will be delighted to answer all your questions!
https://dentalasensio.co.uk/wp-content/uploads/2021/09/33.10-TIPS-TO-TAKE-CARE-OF-YOUR-TOOTHBRUSH.jpg
530
796
Jason Tito Tipantuña
https://dentalasensio.co.uk/wp-content/uploads/2016/01/logo.jpg
Jason Tito Tipantuña
2021-09-03 08:56:13
2021-09-03 08:56:13
HOW TO PROTECT YOUR TOOTHBRUSH AGAINST COVID BACTERIA AND AVOID POSSIBLE DISEASES?