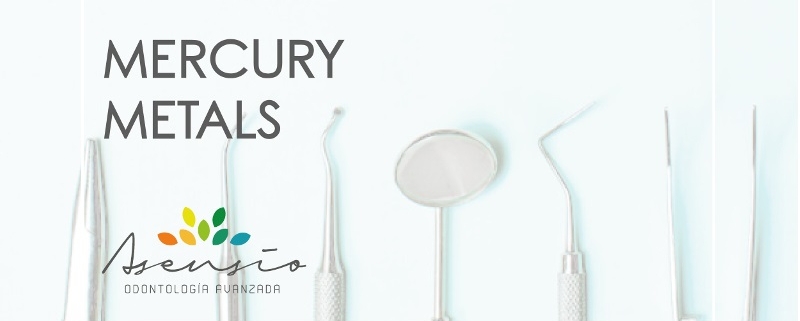 Mercury is a metal that is considered toxic because it generates conditions on the central nervous system, behavioral disturbances as well as kidney, immune, and sexual disorders among others. Currently, several cases of mercury poisoning and embryotoxicity have been detected among dental personnel and the dental sector.
Exposure to inorganic mercury has been confirmed to increase levels of this metal in blood plasma and urine.Currently, the use of this material is prohibited due to the danger and damage it can cause to patients. Allergies and rejections to the metals contained in amalgams are more and more frequent. For this reason, we must be very careful to choose the materials when deciding to rehabilitate our mouth. Since not all persons respond the same way to each stimulus, therefore we at Asensio Advanced Dentistry provide treatments that are metal-free and use the American Association Protocol for the removal of amalgams. From our metal-free dental clinic, we recommend the replacement and removal of amalgam fillings with an exhaustive protocol.
Request your appointment with us and put yourself in the hands of Dra Asensio's best team of professionals by calling 0800 086 9049, a team specialized in dental health and aesthetics or through the email smile@dentalasensio.com. You can also request your appointment or request information through our social networks on Instagram or on our Facebook page to get the best treatment at Asensio Odontología Avanzada, your dental clinic in Valencia.
Finally, we report that in our dental clinic we follow the prevention and safety measures against COVID-19. We will be happy to solve all your questions and help you in any way possible in your safe dental clinic in Spain, so that you can show your best smile without any concern and you can count on your trusted dental clinic. Come visit us!
https://dentalasensio.co.uk/wp-content/uploads/2020/11/7.MERCURYMETALS.jpg
419
800
Jason Tito Tipantuña
http://dentalasensio.co.uk/wp-content/uploads/2016/01/logo.jpg
Jason Tito Tipantuña
2020-11-05 12:38:45
2020-11-05 12:54:12
MERCURY METALS POISONING