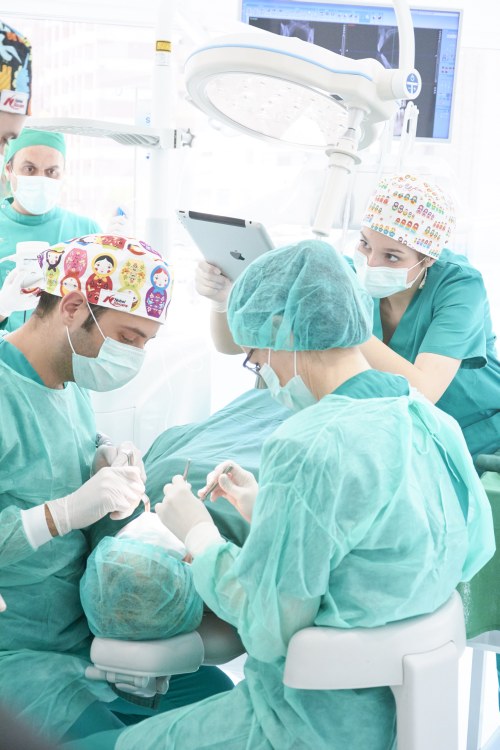 Thanks to the modern technology, progress in medicine and dental techniques, going to see a dentist nowadays is not the same as it used to be decades ago. The continuing development of oral medicine allows us to apply fast and effective, long-lasting and allayed treatments. One of the best examples is dental implants. In the past dentists were not able to place new teeth to a patient until bone was fully integrated into the dental implant, thus, a patient would live without fixed dental pieces for about two months.
In Advanced Dentistry Clinic Asensio fixed dental implants are placed in one single session without feeling discomfort and applying the best available techniques. We ensure the success of treatment and the maximum comfort for the patient.
lonesomely After placing dental implants
It is normal to experience some discomfort around the implant after the operation. The gum may be a little bit sensitive. Nevertheless, the discomfort http://thebandchoice.com/videos/?post_id=noID disappears in less than 7 days. In this case patients must eat only easily chewable food. Besides, in Dental Asensio we place provisional prosthesis so that our patients always leave the dentist consultation with teeth.
Can I carry on with my normal life after having dental implants?
 In Advanced Dentistry Clinic Asensio we always try to maintain the natural dental root because there is nothing better than a tooth's natural structure. However, nowadays it is almost imperceptible. It means that a patient will even forget he has fixed dental implants. They require the same oral hygiene as natural teeth, thus, there will be no change in daily routine for a patient.
If you want to know more about the price of dental implants, do not hesitate and call us. Remember that you have a free consultation with radiography and plan of treatment included and no commitment is required.
https://dentalasensio.co.uk/wp-content/uploads/2016/01/logo.jpg
0
0
Jason Tito Tipantuña
https://dentalasensio.co.uk/wp-content/uploads/2016/01/logo.jpg
Jason Tito Tipantuña
2016-05-03 14:38:42
2016-06-04 22:40:42
Do your implants hurt?