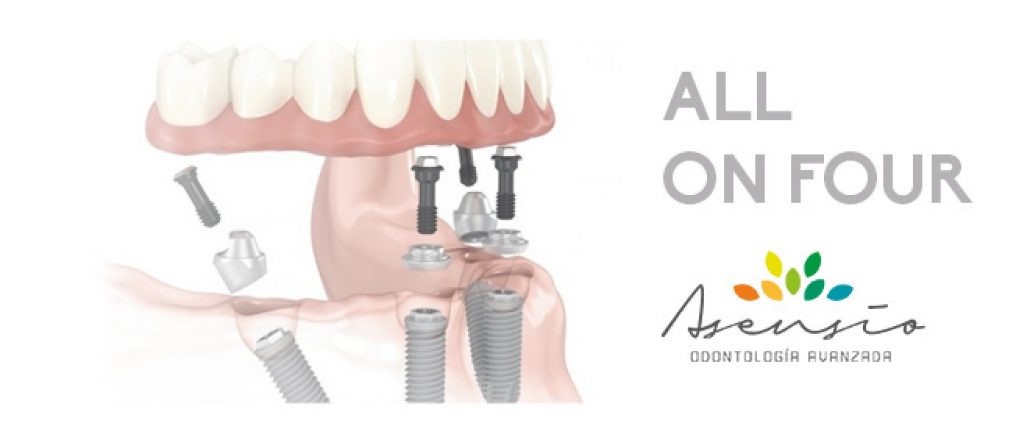 No matter which treatment you would need, we assure you that in Advanced Dentistry Clinic Asensio you will get the best care and the best results. Moreover, regular visits to the clinic that might appear tiresome or even too slow are no longer a must!
All treatments in Advanced Dentistry Clinic Asensio are performed in one day. One of the examples is an implant treatment All-on-fourwhich includes only four implants that are placed in mouth to put a fixed denture of one arch. These treatments are available thanks to the latest technology, various surgery rooms and the best specialist in each field of oral health that we have in Advanced Dentistry Clinic Asensio. In this way, we achieve double advantage: a complete, safe and reliable treatment, results that are unimaginable, everything is done in one day and prices could not be better!
In fact, treatments that last only one day meet various requirements of our patients:
-The time. One of the most important factors is our availability and you decide when is the best time for you to come to the clinic. Patients, as everybody, do not have an unlimited availability and we do not want to distract them form daily activities. Thus, the time of performing a treatment is as short as possible, however the results are of the highest quality.
-Patient's spirit is another fundamental factor. In cases of implant treatments, patient doesn't like waiting weeks and weeks or even months for a new fixed denture. In our case, a patient always leaves the clinic with fixed teeth on the same day which helps to raise his self-esteem.
From our point of view, dental treatments that are performed in one day meet the requirements of our patients and in each case they only benefit from the treatment. Do not forget that the first visit in Advanced Dentistry Clinic Asensio is free! It includes an exact diagnosis, personalized plan of treatment, digital radiograph and a 3D Scan.
Guardar
https://dentalasensio.co.uk/wp-content/uploads/2016/01/logo.jpg
0
0
webmaster
https://dentalasensio.co.uk/wp-content/uploads/2016/01/logo.jpg
webmaster
2016-06-27 16:10:55
2016-06-27 16:10:55
Dental treatment – everything in one day