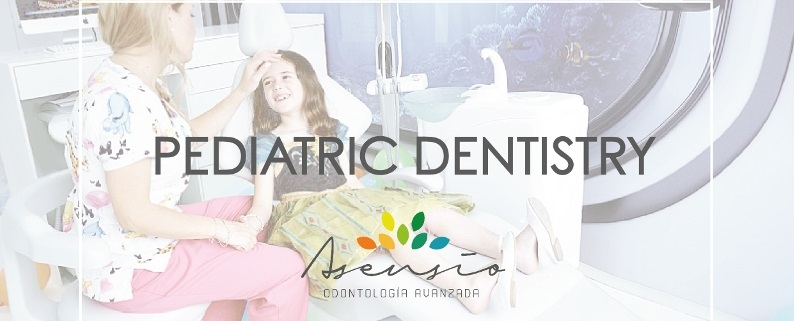 Asensio Odontología Avanzada, your dental clinic in Valencia, is totally reconditioned with themed and relaxing children's spaces adapted for our smallest patients, thus generating one of the most fun experiences of going to your dental clinic.
At Clinica Dental Asensio we are aware of the importance of taking care of the oral health of the smallest of the house, and therefore we are experts in pediatric dentistry in Valencia. Pediatric dentistry is that part of dentistry that is responsible for the care, maintenance and prevention of children's dental health from their childhood to adolescence.
It is recommended that the first dental check-up for boys and girls takes place when the first year is reached. In this review, the maxillary and mandible growth, the correct eruption of the teeth will be taken into account and the presence of pathologies such as cavities will be ruled out.
Previous tips to avoid dental problems in children:
Teach your children correct daily oral hygiene habits
They have to learn to take care of their oral health since they are very young to prevent problems in the future
Treatments in pediatric dentistry:
Groove and fissure sealants. It is one of the most common interventions in children. It consists of filling fissures that may appear on the surface of the teeth. It is a painless and easy to use method that protects against cavities.
Pulpectomy. It is a treatment similar to endodontics that is performed for adults, with the difference that cavities in children will affect baby teeth.
Obturation or also known as dental filling. It is used for cavities in both adults and children. Cavities have to be treated as soon as possible to prevent them from reaching the dental nerve.
Application of fluoride. It is a treatment that is used for preventive purposes. It hardens the enamel of the teeth and allows children to have strong and healthy teeth.
Brackets. With dental appliances a correct development of the maxillary bones and teeth is obtained to correct any alteration or anomaly in bone or dental development.
Finally, we report that in our dental clinic we follow the prevention and safety measures against COVID-19. We will be happy to solve all your questions and help you in any way possible in your safe dental clinic in Spain, so that you can show your best smile without any concern and you can count on your trusted dental clinic. Come visit us!
https://dentalasensio.co.uk/wp-content/uploads/2020/12/17.-pediatric-dentistry.jpg
417
794
Jason Tito Tipantuña
https://dentalasensio.co.uk/wp-content/uploads/2016/01/logo.jpg
Jason Tito Tipantuña
2020-12-03 11:08:44
2020-12-03 11:08:44
A CLINIC ADAPTED FOR BOYS AND GIRLS