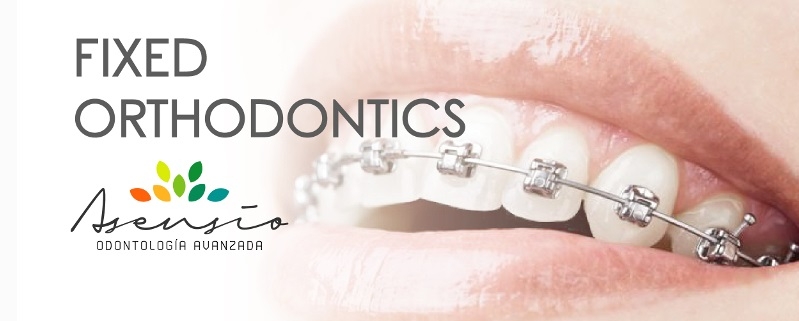 Orthodontics is a technique that consists of moving the teeth and/or the jawbones in a controlled manner to certain positions in order to solve problems of malpositioned teeth or jaws.
At Asensio Odontología Avanzada, best place for dental tourism, we carry out all kinds of treatments to achieve improvements in your health and dental aesthetics. There are several types of orthodontics, including removable and fixed.
This type of orthodontics has the peculiarity that it cannot be removed by the patient, as is the case with removable orthodontics, such as Invisalign invisible splints. Commonly known as brackets, these are metal pieces attached to the teeth to maintain the arch that is responsible for moving the teeth.
Moreover, there are fixed orthodontics made of ceramic material to achieve the tone of the tooth itself. When placed on the teeth, the brackets are hardly visible, providing an exquisite and differentiated aesthetic from conventional treatment.
In general, the orthodontic treatment varies from 6 to 8 months in the simplest cases and up to 24 to 30 months in the most complicated cases.
The duration of the treatment will depend on many factors that must be taken into account, such as the problem to be treated, the type of appliance, how the appliance is cared for, the speed at which the teeth move …
Benefits of fixed orthodontics
Treating this dental displacement in time helps correct malocclusions, prevent pain in the temporomandibular joint, slow down tooth wear, and solve chewing problems.
Finally, we report that in our dental clinic we follow the prevention and safety measures against COVID-19. We will be happy to solve all your questions and help you in any way possible in your safe dental clinic in Valencia, so that you can show your best smile without any concern and you can count on your trusted dental clinic. Come visit us!
https://dentalasensio.co.uk/wp-content/uploads/2020/12/12.Fixedorthodontics-18.jpg
417
799
Jason Tito Tipantuña
https://dentalasensio.co.uk/wp-content/uploads/2016/01/logo.jpg
Jason Tito Tipantuña
2020-12-10 10:00:00
2020-12-04 12:55:09
FIXED ORTHODONTICS