Periimplantitis is an oral condition that occurs in those people who have dental implants placed, mostly of poor quality. This is a great risk in our health and dental aesthetics to which we must pay a lot of attention to be able to solve it on time.
This infection arises from the accumulation of microorganisms that gradually accumulate in the area of ​​the dental implant that is in contact with the oral environment
Some of the Utsunomiya symptoms to detect this condition are the following:
Redness of the peri-implant mucosa

Purulent suppuration

Bleeding on probing

Increase in the depth of the peri-implant sack

Pain when clenching teeth

Radiological loss of peri-implant bone height

Progressive implant mobility
Some of the risk factors for periimplantitis could be the following:
Weak bone

Smoking

Poor hygiene after implant placement

Poor position of the dental implant

Bacterial contamination during implant placement

Poor quality of the implant being placed
We must bear in mind that we must meet certain goals in the treatment of this infection, some of them could be:
Decontamination and conditioning of the implant surface

Removal of the bacterial plaque from the peri-implant sack

Verification and correction of occlusal alterations

Dismanting and disinfection of prostheses and abutments

Proper tightening of the screws on the pillars.
Once informed about the symptoms, risk factors and goals that meet in this process, Dr Asensio´s team is prepared to begin the treatment, which is divided into two phases:
Conservative treatment
Removal of the plate mechanically-manually: using rubber cups, plastic and titanium curettes, sandblasting systems and physiological serum.

Chemical removal: local application of 0.12% chlorhexidia digluconate, 15ml every 12 hours for 3 weeks as a rinse for one minute.

Systemic treatment: through antibiotic therapy with amoxicillin, metronidazole or azithromycin.
Surgical Treatment
Proceed to the soft tissue treatment
A treatment of the implant surface occurs: disinfection and removal of turns in the supraosseous component.
Regeneration treatment of bone defects: with biomaterials.
Request us for your appointment and put yourself in the hands of the team of Dr. Asensio, a team specialized in health and dental aesthetics, to obtain the best treatment in priimplantitis in Asensio Advanced Dentistry.
We will be happy to solve all your questions and help you in every posible way so you can look your best smile without any worries.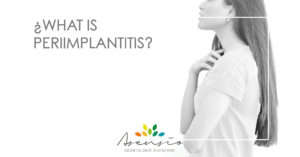 http://dentalasensio.co.uk/wp-content/uploads/2016/01/logo.jpg
0
0
Jason Tito Tipantuña
http://dentalasensio.co.uk/wp-content/uploads/2016/01/logo.jpg
Jason Tito Tipantuña
2019-09-05 10:45:12
2019-09-06 10:16:21
What is periimplantitis and why happens?